BEST SELLERS
Not sure where to start? Get to know our customers' favorite products! 😍
SHOP BEST SELLERS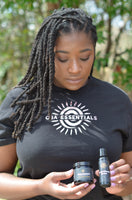 WHAT OUR CUSTOMERS ARE SAYING
Everything about these products are top notch. Absolutely no corners were cut! My hair and skin are forever grateful 🙏🏾
The hair oil is one the best that I have used. I have used many in my 20 year natural journey. Smells great, lightweight gives great sheen, makes scalp feel good and spreads well.
Absolutely love the grapefruit souffle! The consistency is perfect for body and hair. Shipping was fast and packing too cute.
I LOVE the shea souffle! I keep having to remind myself not to eat it, LOL. so light and goes on clear. LOVE!!!!! & I'm so grateful that Mrs. Erin let me get it fragrance free despite having four amazing scents. 😍😍😍
Super dope hair care products!!
I love the body butter. It makes my skin feel so soft. I'll definitely be purchasing more.
Shop Shea Soufflé Whipped Body Butters
---
Shop Hair & Beard Elixir Oils